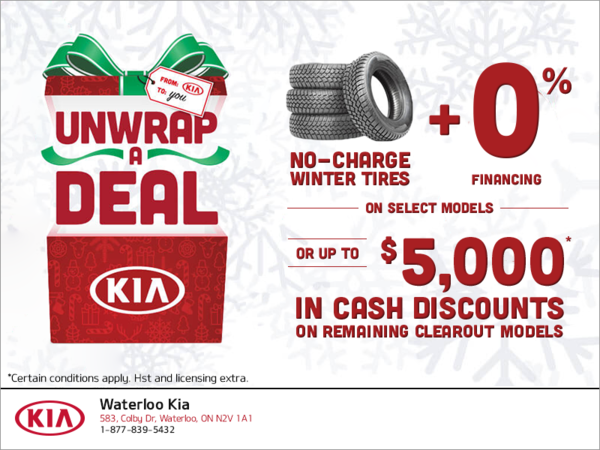 Unwrap a deal with Kia!
Finance a new Kia from 0% and get no-charge winter tires on select models!
OR get up to $5,000 in cash discounts on remaining clearout models!
Certain conditions apply. HST + licensing extra.
This offer is valid until November 30th, 2018.
Book your test drive today!
Offer(s) available on select new 2018/2019 models through participating dealers to qualified retail customers, on approved credit, who take delivery from November 1st to 30th, 2018. All pricing and payments include delivery and destination fees up to $1,785, $10 OMVIC fee, $29 tire fee, and $100 A/C charge (where applicable). Excludes other taxes, paint charges ($200, where applicable), licensing, PPSA, registration, insurance, variable dealer administration fees, fuel-fill charges up to $100, and down payment (if applicable and unless otherwise specified). Other lease and financing options also available. Dealers may sell or lease for less. Some conditions apply. See dealer for complete details. Vehicles shown may include optional accessories and upgrades available at extra cost. All offers are subject to change without notice. F 0% financing is only available on select new models to qualified customers on approved credit. F Representative Financing Example: Finance a new 2019 Sportage (SP751K)/2018 Stinger GT ( ST752J)/ 2018 Rio 5 LX+ AT (RO753J)/ 2019 Sorento LX FWD (SR75AK)/ 2019 Sedona L (SD751K)/ 2019 Sorento LX FWD (SR75AK) with a selling price of $27,219/$45,119/$19,719/$29,919/$29,669/ $29,919 at 1.99%/1.99%/ 0%/0.99%/2.49%/0% for 84/24/84/84/84/48 months for a total of 364/104/364/364/364/208 weekly payments of $72/$442/$51/$79/$82/$1440 with $2,825/$0/$995/$2,159/$2,125/$0 down payment. Payment amount includes $0/$1,000/$0/$0/$750/$0 Bonus. Cost of borrowing is $1,734/$895/$535/$971/$2,463/$0 for a total obligation of $27,219/$45,119/ $19,719/$29,919/ $29,669/ $29,919. *0% leasing offer is only available on select new models to qualified customers on approved credit. Representative Leasing Example: Lease offer available on approved credit (OAC), on new 2019 Soul LX (SO752K)/ 2019 Forte LX MT (FO541K) with a selling price of $22,019/$18,269 is based on a total number of 208/208 weekly payments of $56/$48 for 48/48 months at 1.99%/1.99% with $0 security deposit, $1,995/$675 down payment and first payment due at lease inception. Offer includes $0 /$0 Bonus. Total lease obligation is $11,741/$10,063 with the option to purchase at the end of the term for $9,451/$8,568. Lease has 16,000 km/yr allowance (other packages available and $0.12/km for excess kilometres). † Cash Purchase Price for the new 2018 Optima LX AT [OP741J]/ 2019 Sorento SX (SR75JK)/ 2019 Sorento SXL ( SR75KK) is $20,819/$42,789/ $46,789 and includes $5,000/$4,000/ $4,000 cash discount. Cash discount varies by model and trim and are deducted from the negotiated selling price before taxes. Dealers are free to set individual prices. Some conditions apply. See Dealer for details. Offer ends November 30th, 2018. ‡Model shown Manufacturer Suggested Retail Price for 2019 Forte EX Limited (FO847K)/2019 Sorento SXL Limited (SR75KK)/2019 Sportage SX Turbo AWD (SP757K)/ 2018 Optima SXL (OP747J)/ 2018 Rio 5 EX Tech Navi (RO756J)/2019 Sedona SXL+ (SD757K)/ 2019 Soul SX Turbo Tech (SO85DK)/2018 Stinger GT Limited (ST753J) is $38,065/$48,865/$39,595/$38,745/$23,745/ $47,865/ $30,095 / $49,995. † No Charge Winter Tire offer available on the purchase/lease of a new and unregistered 2018 & 2019 Stinger, 2018 & 2019 Sportage, and 2019 Sorento between November 1 and 30, 2018. Wheels are excluded and may need to be purchased by customer. Installation, storage fees and tire tax are extra and vary by dealer. The brand of winter tires and tire size are at the dealer's discretion. Value of winter tires varies by trim. Offer is subject to certain conditions and may not be converted to cash. Visit your Kia dealer for complete details. Offer ends November 30, 2018